The buzz about crypto currency is around all time high, more and more people are interested about how to invest in crypto currencies like Bitcoin, Ethereum or Litecoins.  I've been an investor in crypto since earlier this year, and I want to share with you everything I know and teach you how you can get started investing in crypto currencies today (in 2017).
My Story
My friend approached me a couple of months ago and asked if I was interested in investing in Ethereum, at first I was skeptical, and doubt the technology as something worth to invest in because I didn't know much about it, but after a couple of hours of research, I decided to put some money in and see what happens, well, after a month, that money almost tripled, I entered the market at just the right time!  From traditional investment point of view, I know this was just a lucky spike, and that I needed to do more due diligence if I wanted to continue or put more fund into this economy.  After months of research, I can safe to say that I am putting all my backing into Ethereum.  I will talk about why in a later article/video.
Join a Crypto Community
I recommend joining a crypto community to get all your questions answered by people who are experts in the field.  One of the BEST community i've came across is Cryptodamus Discord group, you can join it here
Coinbase
Coinbase is THE best place to buy and sell crypto currencies. Backed by many large, well known Venture Capital firms, Coinbase is the industry leader in the crypto space.
In May 2013, the company received a US$5 million Series A investment led by Fred Wilson from the venture capital firm Union Square Ventures[14]. In December 2013, the company received a US$25 million investment, from the venture capital firms Andreessen Horowitz, Union Square Ventures and Ribbit Capital.[15]

In 2014, the company grew to one million users, acquired the blockchain explorer service Blockr and the web bookmarking company Kippt, secured insurance covering the value of bitcoin stored on their servers, and launched the vault system for secure bitcoin storage[16][17][18]. Throughout 2014, the company also formed partnerships with Overstock, Dell, Expedia, Dish Network, Time Inc., and Wikipedia to power accepting bitcoin payments[19][20][21][22][23]. The company also added bitcoin payment processing capabilities to the traditional payment companies Stripe, Braintree, and PayPal[24]. – Wikipedia
Coinbase have grown substantially this year due to massive interest from the public as a result of media coverage.  I've been a member of Coinbase since the beginning and have used them to purchase coins and I always received my coins in reasonable time frame. Their user interface makes it extremely simple for you to get started.
To purchase Bitcoin, Ethereum or Litecoin, Sign up with Coinbase (my referral link gets us both FREE $10 worth of bitcoins) and link a bank account with Coinbase. Next, head over to the Buy screen, and enter amount of money you would like to spend or the number of coins you wish to purchase at that time.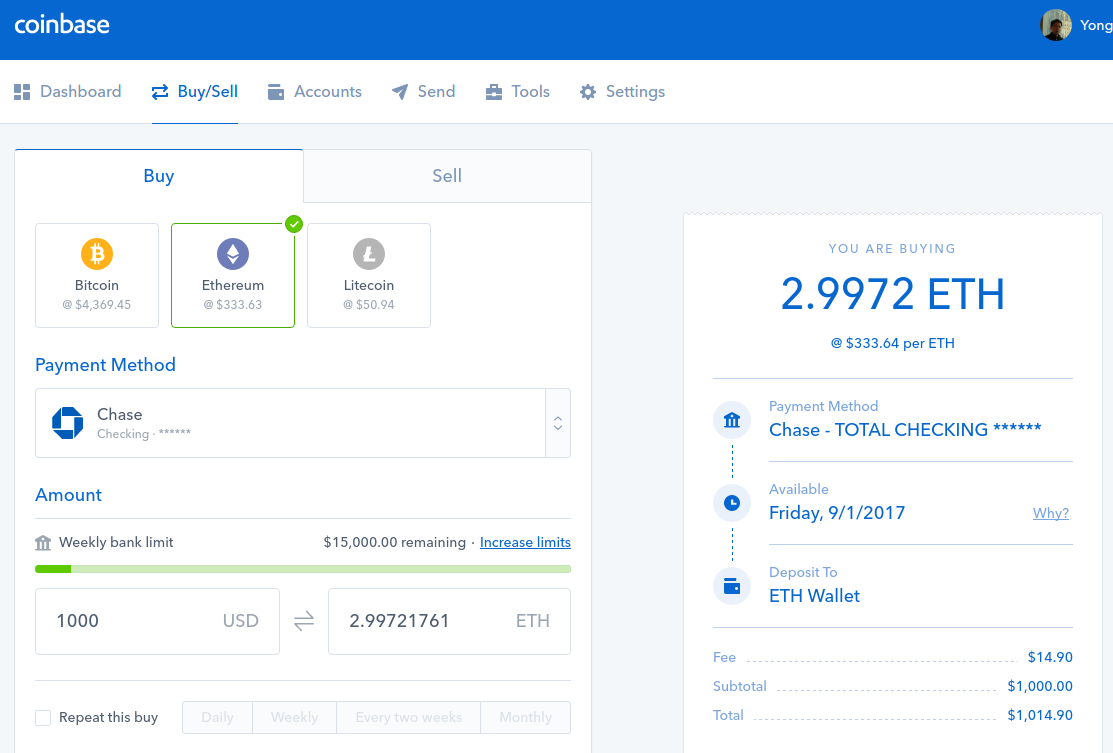 The standard wait time for coins to arrive at your account is about 7 days, since the price of cryptos fluctuate all the time, the price and number of coins you purchased are locked in from your time of purchase.  This means if you bought Ethereum for $100 a coin, and an hour later, the price of Ethereum went up by $20, then you just made $20/coin!
As you can see, the user interface of Coinbase makes it really simple and easy to purchase crypto currencies.  I highly recommend their platform and they are one of the most trusted outlet in the crypto community.  The best time to invest is now, but I will leave that to your own due diligence and pick your best time to enter make that first step.
Trading
If you're an experienced trader, then GDAX is the platform for you.  GDAX is owned and operated by the same team behind Coinbase, it is an amazing platform that allows you trade your coins.  Accounts are linked directly to your Coinbase account in order to facilitate instant transfers.  The exchange has standard features such as market, limit, stop limit and stop loss orders.  Order books and trade history are on display at all times along with a standard candlestick graph to show you price movement history.  You can trade crypto currencies for US Dollars or Euro, and you can even trade between different crypto currencies such as Ethereum to Bitcoin or Bitcoin to Litecoin!  I really like GDAX exchange and I've been using it for months without any issue. If you already have a Coinbase account, all you have to do is link it.  Give it a try at https://www.gdax.com
Bitcoin vs Ethereum
Bitcoin
If this is the first time you venture into the crypto currency space, chances are you've already heard of Bitcoin, Bitcoin gained massive media coverage due to its incredible growth over the years.  There were numerous news stories came out that associated Bitcoins with illegal activities, while this is true, these activities were made possible due to the technology behind Bitcoin is something that enables peer to peer transaction of money without a middleman, it does not mean "If you use Bitcoin, you're a bad person".  Bitcoin has come a long way ($20 Million Dollar Pizza), and it survived many incidents (Mt.Gox Hack, Hard Fork) over the years and has risen to its all time high price of over $4300 at the moment of writing.
Ethereum
Ethereum started the year at a price of around $7 per coin, and around mid year, it has risen to an all time high of about $420, that's almost a 60X return on investment!  The reason for this unbelievable rise is due to the underlying technology, if you want a programming analogy comparing Bitcoin with Ethereum it would be "Bitcoin = Facebook, Ethereum = Underlying toolsets that enables people to build an app like Facebook".  It's entirely possible to build Bitcoin with Ethereum, as you may heard of the recent disruption in venture capital industry a phenomenon known as ICO or Initial Coin Offering, which allowed organizations to create their own crypto currency using Ethereum's smart contract feature in order to raise substantial amount of money to fund their projects, some well known ICOs were: Filecoin, Augur, Tezos and hundreds of others.
In terms of growth, Ethereum certainly outpaced Bitcoin this year.  The underlying technology has began adoption within many public organizations such as Microsoft, IBM, JP Morgan Chase, Intel and hundreds of others.  Many within the Ethereum community were anticipating the rise of Ethereum as the king of all crypto currencies, at one point, people were dubbing this event as "The Flippening" in which the market cap of Ethereum over takes Bitcoin.  However just like any other securities, this field is very unpredictable.
How Does Taxes Work For Bitcoin, Ethereum, etc?
As of right now, trading of crypto currencies are treated the same way as stocks and other securities under the laws of the United States.  You are liable for rules of short term and long term capital gains. To put it in an example, let's say you purchased 1 Bitcoin for $4000, and about 3 months later, the price of Bitcoin is now worth $5500, and you decided to sell it for the difference of $1500 profit, the amount of tax you would have to pay when you sell within a year of purchase is called Short Term Capital Gain, and it is taxes at your regular tax bracket, so in this case if your tax bracket is in 25%, then you would have to pay $1500 * .25 = $375.
Now if you had held the coins for over a year, you can then sell it and pay a lower tax rate of 15%, which is a flat rate for Long Term Capital Gain.  An important thing to remember is that you would have to do this for EVERY SINGLE TRADE you make, so it's a good idea to keep track of what you did so you can properly report it to the IRS.
If you're like me, it's too much of a hassle to keep that up, so I would like to refer you to a service call Bitcoin Tax, contrary of its name, Bitcoin Tax will handle ALL crypto currency trades at ALL major exchanges, you simply connect the service with your exchange (it has instructions for each exchange) and the software will do all the taxes for your trades,  it is a HUGE time saver.  I highly recommend the service and it's 100% worth the small price you pay for their service.
I am not a tax professional, so I recommend you talk to your accountant and make sure you're absolutely clear about how taxes work for crypto currencies.
Crypto Price Buddy
Features
Real Time Price Updates: Base on GDAX data
Tab Title Price Display
Bitcoin, Ethereum, Litecoin Prices
Top 10 Crypto Currency Ranking Chart
Native Web App, add to Home Screen for quick access
I'm a big fan of crypto currencies and I want to contribute to the community, so I decided to develop a crypto price checking app, you can access it for free at http://cryptodam.us/ It's feature rich and currently being actively developed on. If you have suggestions or feedback, drop me a line at @whyzhi on Twitter.
I hope you enjoy this brief introduction and hopefully motivate you to start investing in crypto currencies.  I have no doubt in my mind the value of these coins will be worth many times over in the years to come.  Their underlying technologies could possibly change the way the internet works I am EXCITED to be a part of this evolution.
Don't forget:
$10 Worth of FREE Bitcoin by signing up with Coinbase
Donate ETH: 0x79aCad1654fd277096571E536b9Bd49b33c024e4
Comments Or Questions?
Discuss
In Our Discord